Now that pole sitting, dance marathons and their glorious ilk have fallen out of favor people need new ways to humiliate themselves. I guess 50 Shades & Honey Boo Boo weren't enough. Fortunately for those of you who get all tingly listening to the Masochism Tango, I am here today to bring you wonderful news. Since, as of this writing, Marvel Films will not be attending Comicon in July they needed to come up with a new way to make their fans stand in long lines, wear funny costumes and be humiliated in the media. Now, if only there was some way to charge them extra for all that and, maybe, throw in sleep deprivation just to make it all worthwhile.
And, AS GOD IS MY WITNESS, they did it.
AMC and Regal Cinemas announced a 29-hour Ultimate Marvel Marathon, a super test of stamina that'll end with some of the first screenings of the new "Avengers: Age of Ultron."

The marathon will begin at select theaters — some of which haven't been announced — at 6 p.m. on April 29, and run through all 11 Marvel movies released since "Iron Man" in 2008, The Verge reports. The cinematic binge will cost $65, which comes out to just under $6 a movie, and give fans early access to the Avengers sequel that has received a lot of hype.

Here's a full list of the lineup, according to AMC:

6 p.m. IRON MAN
8:25 p.m. THE INCREDIBLE HULK
10:35 p.m. IRON MAN 2
1 a.m. THOR
3:10 a.m. CAPTAIN AMERICA: THE FIRST AVENGER
5:30 a.m. THE AVENGERS
8:48 a.m. IRON MAN 3
11:15 a.m. THOR: THE DARK WORLD
1:45 p.m. CAPTAIN AMERICA: THE WINTER SOLDIER
4:20 p.m. GUARDIANS OF THE GALAXY
7 p.m. AVENGERS: AGE OF ULTRON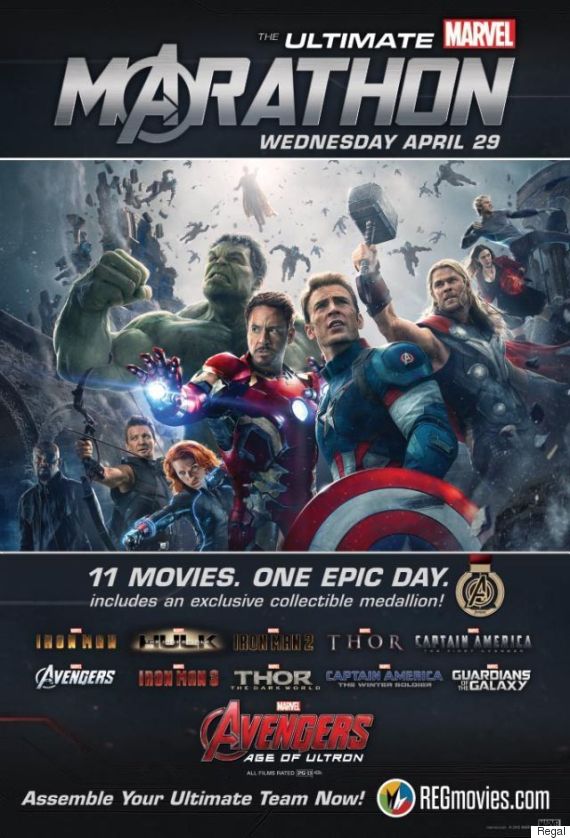 I don't know. I guess, if I were a kid again, I'd do it. Hell, I went to enough Rocky Horror showings and all night co-ed slumber parties (pre AIDS, it's okay) so why should this be any different?
If you go remember to dress comfortably, that hand jobs are your safest bet between 10 PM and 4 AM and that, no matter what, your mom will find out.
Listen to Bill McCormick on WBIG (FOX! Sports) every Friday around 9:10 AM.
Visit us on Rebel Mouse for even more fun!
contact Bill McCormick
Your Ad Can Be Here Now!