If you've spent more than one minute in public or watching TV in the last year you have probably noticed that racism, thought to be on the wane in years past, has been making a roaring come back. Or, to be more accurate, it is not going quietly into the good night. As the racial makeup of America skews darker each year there are those who cling painfully to a past that never was. And if their vitriolic screed injures another that is a price they seem far too willing to pay. Yet, as odd as this sounds, I find this whole thing slightly heartening. You see, these losers and xenophobes are no longer lurking in the shadows where they could do real harm and have for centuries. Instead they are out in the open and we can easily spy them. We know not to breed with, or encourage, them in any way. Also, now, when they do do something hateful or harmful society is more likely to hold them accountable. Slowly but surely humanity is bending towards justice for all. Not as some hoary phrase but as something being put into actual practice. But, boy oh boy, do we have a long way to go.
Pre-Christmas, 2011, I wrote an article about racist holiday traditions. Because nothing says "Happy Birthday Jesus!" (a dude born in the middle east) like belittling someone of a different race. Well, now, no longer satisfied to be a Dutch holiday tradition, the adherents to Sinterklaas have set up a Facebook page to celebrate wearing black face with giant red lips and try and make it a global tradition.
A Dutch Facebook page seeking to preserve the country's fall "Sinterklaas" festival exactly as it is — including clowns in blackface makeup known as "Black Petes" — has received nearly a million 'likes' just 24 hours after it was created.

The swift growth of the 'Pete-ition" page reflects the depth of emotional attachment most Dutch people feel to the tradition, and their annoyance at outsiders who judge it without understanding it.

On Tuesday a U.N. expert condemned the tradition as racist.

In the festival, St. Nicholas arrives in mid-November accompanied by a horde of helpers — the Black Petes, who also have red lips and curly hair. Opponents say they are an offensive caricature of black people; supporters say Pete is a figure of fun whose appearance is harmless.
Ahem. The "Black Petes" are based on the Dutch tradition of having Moorish (a/k/a black) servants to jolly old St. Nick hand out gifts at Christmas time. Since the Dutch East Indian Trading Company not only shipped tea, they also shipped slaves, you can guess where those Moorish servants came from and how they got their meager jobs. They are universally portrayed as not very bright. So you have white people wearing black face and pretending to be stupid. Yeah, I can't imagine why anyone is offended.
Now, let's look at this next photo.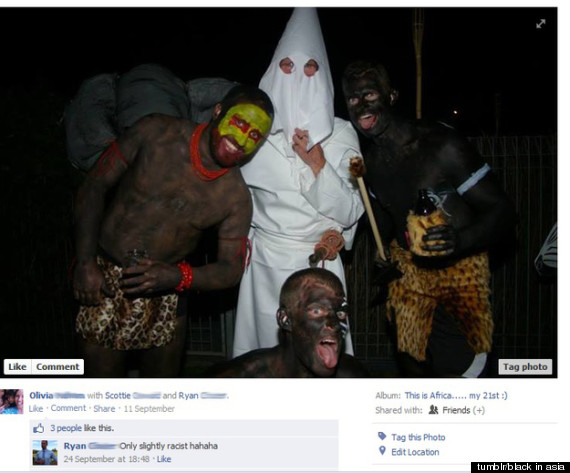 That is from an African themed party in Australia. It was hosted by a young lady who wants to teach English in Africa. You have to
read the rest
to believe it.
As Halloween approaches it was only a matter of time before racially insensitive photos hit the web of people dressed up in blackface. This time, however, it's connected with a young woman's 21st birthday party rather than a Halloween themed gathering. Buzzfeed brought the offensive photos to our attention.

The Tumblr user "BlackInAsia" was alerted to the photos through one of his followers and shared them with this context:

Attendees were all asked to wear "African themed" clothing to depict the continent and this is what resulted… blackface, elephant and gorilla costumes, warpaint, native American headdresses (?!) and more…. I'm at a loss for words.And yes, this is from 2013.

The girl posted the pictures proudly and flatly refused to take them down when confronted by another individual about how they were racist apparently. Pictures were reported to facebook weeks ago and they still have not been taken down.

Wow.

In case you ever wanted to know how white folks saw us black Africans… here you go.

The girl, known as Olivia Mahon, lives in Australia and wants to teach English in Africa one day. Shortly after the photos were shared on Tumblr, she posted an explanation for the photos (where she also refers to Africa as a country).

"In fact as you can tell from the photos I dressed up as cleopatra, whilst MAJORITY of my guests came as animals, that can be found in africa or wore traditional african clothes or even dressed up as famous people who come from africa. If anything this was to celebrate the amazing country and people. "

You can read her full clarification on BlackinAsia's Tumblr page.

The birthday girl planned the party using a Pinterest pinboard, where she pinned photos with captions like, "Though now in Africa you also have people who live in modern day houses like us. The woman tend to dress more traditionally and the children play outside and go to school." She also highlights "beautiful" African woman, safari-themed cupcakes and inspiration for her Cleopatra outfit.

This isn't the first time we've seen this. In recent history, there was the "African Queen" editorial in Numero Magazine, with a white model in blackface; University of California-Irvine produced a video featuring a member in blackface, and two students from Beta Theta Pi fraternity at the University of Florida attended a party donning blackface last year.

Two students from Northwestern University made headlines in 2010 for attending parties in blackface. A similar situation happened at Lehigh University. The "Compton Cookout" hosted by members of the Pi Kappa Alpha fraternity at University of California-San Diego is another incident that sparked outrage.

And this latest party making headlines is yet another example of what not to do when hosting a party.
Just in case you were asleep that year they busted out the world map, Africa is a continent, not a country. I would have thought that a college student might know that little fact, but it appears I was wrong.
Also, just FYI, they have cars and indoor plumbing in Africa too.
Closer to home we have the fun story of Trayon Christian, a black man who bought a belt.
A college student from Queens got more than he bargained for when he splurged on a $350 designer belt at Barneys — when a clerk had him cuffed apparently thinking the black teen couldn't afford the pricey purchase, even though he had paid for it, a new lawsuit alleges.

"His only crime was being a young black man," his attorney, Michael Palillo, told The Post.

Trayon Christian, 19, a NYC College of Technology freshman from Corona, went to the Madison Avenue fashion mecca in April to buy the Salvatore Ferragamo belt after saving up his paychecks from a part-time job at the college.

But as soon as he exited the luxury department store, undercover officers grabbed Christian and asked "how a young black man such as himself could afford to purchase such an expensive belt," according to the suit, filed Tuesday in Manhattan Supreme Court.

A Barneys clerk, who had asked Christian for identification when he bought the belt, called police claiming the purchase was a fraud, the suit says.

Plainclothes detectives hauled Christian off Fifth Avenue and into the local precinct.

There, Christian produced his identification, his debit card from Chase and the receipt with his name on it, the suit states.

"In spite of producing such documentation, Christian was told that his identification was false and that he could not afford to make such an expensive purchase."

A belt similar to this one was purchased by Trayon Christian at Barneys.

Cops eventually called Chase, which verified that the card belonged to Christian, and they let him go.

Police sources said Christian has no arrest record.

Christian told The Post he returned the belt out of disgust over his treatment by the world-famous clothing store.

"I didn't want to have anything to do with it," he said, adding that he was first inspired to buy the accessory by Harlem rapper Juelz Santana who wears the Italian designer's duds.
Christian said he'll never shop at Barneys again.

He is suing both Barneys and the NYPD for unspecified damages.

Barneys did not immediately comment.

A spokeswoman for the city's Law Department said she would review the claims once she received the suit.
So now we can add "Shopping While Black" to the list of actionable offenses. While this is appalling as is, I almost cried when I heard someone I know say "Well, how were they supposed to know that black kid had a job?"
Did I mention we have a long way yo go? Yes, I believe I did.
In the meantime we have this gem. It seems that young lady was fired from Hooters for not being black enough.
When will the foolishness and hoopla around black people's hair stop? Over the past year we've had to hear about a little girl being kicked out of school for wearing locs, an Ohio school banning a list of natural hairstyles and let's not forget meteorologistRhonda Lee who was fired for defending her right to rock her natural hair on TV.

Now comes news out of Baltimore that a black woman has allegedly been fired from her job because of her blonde highlights.

Farryn Johnson told Maryland's CBS News affiliate that she was let go from her job as a waitress at Hooters due to '"improper image" after the 25-year-old refused to remove blonde highlights from her dark brown hair.

"They specifically said, 'Black women don't have blonde in their hair, so you need to take it out,'" Johnson told CBS.

"I didn't see that it would be a big issue just because there were a lot of other employees working at the restaurant of other races with color in their hair. For instance, there were Asian girls with red hair and Caucasian girls with black hair and blond streaks so I didn't think it would be an issue for the little piece of blond highlight in my hair."

Johnson has reportedly filed a racial discrimination complaint with the Maryland Commission on Civil Rights.

"The law is clear that employers can't have two separate unequal sets of rules—one for African-Americans employees and one for everybody else, and yet that's exactly what Hooters did here in firing Miss Johnson, an African-American employee solely because she's African-American. They targeted her because of her hair solely because of her race," Johnson's attorney, Jessica Weber, told CBS.

Hooters has declined to comment, citing pending litigation.
I work in the burbs. As such there are Hooters everywhere. I went to one recently, just for the wings you understand, and our waitress was a pale young lady with neon pink hair. I am pretty sure, as a fan of genetics, that was not her natural color. Simply put I doubt that the curtains match the carpet, if you catch my drift.
Speaking of the suburbs, a recent study took a look at how black youths assimilate into predominantly white culture. The results aren't all that surprising, but they are kind of sad.
Many studies have focused on young African-American boys and their experience in school. From gender biases in teacher grading that start as early as elementary school to blaring disparities in disciplinary practices, black male youth seem to be at a perpetual disadvantage in academic environments.

However, two studies that examined programs aiming to increase diversity by bussing minority students to primarily white schools revealed an area where black boys reportedly engaged with relative ease. According to an article published last year by Megan H. Holland, a professor at the University of Buffalo, minority boys reportedly have an easier time fitting in with their white peers at suburban schools because of stereotypes about their athleticism or "coolness" that give them greater access to activities that increase positive interactions with white students, like sports and social clubs.

On the contrary, another study conducted by Simone Ispa-Landa at Northwestern University found that black girls were comparatively seen as "ghetto" or "loud" when they exhibited behavior that was usually socially rewarding for their black male counterparts.

Ispa-Landa's study showed that "as a group, the boys were welcomed in suburban social cliques, even as they were constrained to enacting race and gender in narrow ways." However, these urban signifiers resulted in the opposite result for black girls, who were seen as "aggressive" and undesirable, with neither the white nor the black boys showing any interest in dating minority girls. In short, playing out racial stereotypes worked in black boys' favor, while doing the same was detrimental for black females.
Excluding Oprah, Mrs. Cosby, Mrs. Obama & Whoopi, can you name a positive black female image in popular media? They are few and far between. The fact that I had to put Whoopi on that list shows you how thin the pickings are.
Well, I did say we had a long way to go. But, at least, we've begun the journey.
Stand By Me | Playing For Change | Song Around The World from Concord Music Group on Vimeo.
Listen to Bill McCormick on WBIG (FOX! Sports) every Friday around 9:10 AM.
Visit us on Rebel Mouse for even more fun!
contact Bill McCormick
Your Ad Can Be Here Now!