THE CULT
Thursday, 28th October
Vic Theatre, 3145 N Sheffield Chicago
7:30 PM
Tickets: $36
It all began for me back in 8th grade, when a fellow member of my school's X-Country team was going bananas listening to his Walkman in the seat next to me on the bus as it carried us to a race.  I asked him what on earth he was listening to, and being a Junior and therefore older and musically wiser than I, he replied "The Dead Milkmen".  Enthrallingly astonished at such an archaic name for a band, I quickly motioned to him to hand over his headphones so I could take a listen…and upon hearing the first two notes of that childish brilliancy, my life was changed.  This guy agreed to dub (remember doing that?) this particular Dead Milkmen album for me, along with a few others. 
Remember, these were the days of taking a 90-minute cassette, and being able to fit an entire album on either side.  At school the next day, he handed me two tapes.  The first one contained Dead Milkmen's album 'Bucky Fellini' on one side, with 'If I Should Fall To Grace With God' from The Pogues on the other (side note: The Pogues have been one of my top few bands of my life since that very day).
Side 1 of the second cassette featured Violent Femmes 'The Blind Leading the Naked' and Side 2 was the rock fest known as 'Electric' from The Cult.  If I remember correctly, my fingers involuntarily made their first devil horn sign upon hearing the guitar line of the lead-off track "Wild Flower"..and I was hooked.
It took me a decade to at last see The Cult play live, and I've since caught them several times in all.  And we can all get our rock on Thursday, 28th October at The Vic.  Tickets are $36, and you can get them here.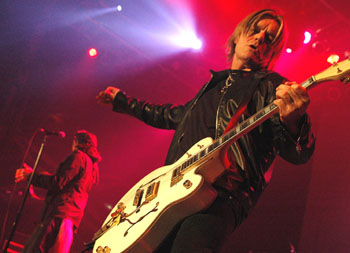 Let's all just forget that lead singer Ian Astbury was ever involved with that "The Doors of the 21st Century" debacle because of his resemblance to Jim Morrison, and remember their formidable place in alternative rock history, which featured such classics as the ones that I've included below.  And though the band hasn't released anything of note in years, they are still one hell of a live show.  I'll be there..with my by now much more experienced devil horn-making fingers.